Inform
Working to Better Our World
For the past half-century, nuclear professionals have worked to significantly improve our quality of life by providing clean energy, medical breakthroughs that save lives, irradiation technologies that safeguard our food supply, and so much more.
Despite these tremendous successes, the public remains fearful and skeptical about nuclear science and technology. This fear and skepticism keep us from reaching the full promise of nuclear science and technology.
Setting the Record Straight
The Center is leveraging ANS's more than 11,000 members as credible and trustworthy experts to dispel the myths and increase awareness about the power and promise of the atomic nucleus with efforts that:
Publicize nuclear science's contributions to peace and prosperity
Dispel misinformation
Advocate nuclear power as a viable solution for the world's energy crisis
Promote the benefits of nuclear: medical diagnostics and treatment, sterilization of medical instruments, food preservation, insect control, and applications yet to be discovered
Engage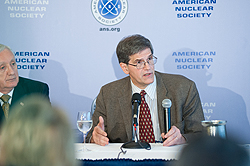 Empowering the Public
With support from companies and individuals across the nuclear field, the Center is already in action, including:
Organizing public education and outreach programs
Engaging in local public meetings and policy hearings
Developing an on-line experience with an innovative, informative and inviting website
Providing information and coordinating grassroots initiatives

Grassroots initiatives (Vermont, Tennessee, etc.)
Educational events across the country
Exhibitions and open house events
The Center is working toward advancing outreach through ANS member training, integrated social media strategies, and on-line topical presentations.
Moving the Media
Polls and research in the last year show that the public largely approves of nuclear energy. However, this approval falls when asked about perceived safety with a power plant near homes, or about their neighbors. perceptions of nuclear energy. The Center is building relationships with the media to offer them reliable experts and fact-checked resources that support an objective approach to writing about nuclear.
Inspire
Converting the Classroom
The Center is developing teaching materials that put the basics of nuclear science and technology into the classroom while aligning with common core requirements and science teaching standards. We know the importance of science, technology, engineering, and mathematics (STEM) in education. This is the key to creating the kind of workforce our country needs.
Our activities include:
K-12 focused outreach events
Students and educators sponsored for National Nuclear Science Week
Teachers introduced to nuclear curriculum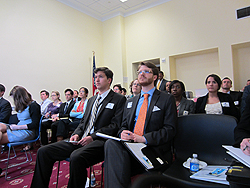 Informing Policymakers
Energy and economic policies need to be informed by fact-based data. Those with a philosophical agenda and little fact behind them can often dominate the policy debate. The Center is providing fundamental information on nuclear science and technology to policymakers and their staff so that they can make more informed decisions about policy, including:
Seminars and briefings held on the Hill
With the support of ANS members and the nuclear community, we can ensure the advancement of the field for future generations. Please join us in our ongoing mission to advance our profession and industry by giving to the Center for Nuclear Science and Technology Information. Donate Today!
Last updated May 22, 2014, 10:46am CDT.